Still counting. Since 1956.
Building on a proud tradition, Swelab Alfa Plus hematology analyzer is developed for reliability with maximum ease of operation. Highly accurate results are backed up by built-in quality monitoring and low instrument maintenance.
Boule has obtained IVDR certification for Swelab Alfa Plus hematology instruments, class B. Boule is now a member of a globally small and honorable group of med-tech companies that have succeeded with this at such an early stage.
Complete blood count from one drop of blood
Micro-pipette adapter (MPA) provides a blood status from a finger-stick capillary sample. Results can be viewed in a minute. No preparation, no pre-dilution and no vacuum tubes are required.
Accurate results start with precise collection
The sampling technique is critical for accuracy of the result. Swelab Alfa Plus therefore comes equipped with a high-precision shear valve. Not only is the shear valve extremely precise to deliver accurate results, it it also designed to minimize maintenance needs to significantly reduce maintenance costs
Gets on with the job
As the top-of-the-range model, Swelab Alfa Plus Sampler provides automation well-suited for many small to medium-sized hospitals. Just pre-load up to 2 × 20 samples and let it do the work!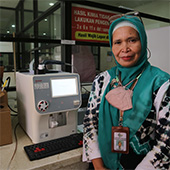 Our favourite features are the MPA and the mixer, the MPA because this is very helpful when sampling from babies and the mixer to keep the venous samples homogenous before analysis.
Dr. Rahmawati, Sp.PK – Pathology specialist
RSUD Ansari Saleh Banjarmasin, Indonesia
…a highly reliable instrument, with an autoloader for automated handling of a significant number of samples and the capillary blood functionality for urgent cases that require immediate count and where venous blood sample is not necessarily available
Dr. Fernando Bonilla
Honduras
… Capillary sampling is less fearful for children, feeling more comfortable when holding them by the finger rather than grabbing their arm. Therefore, the MPA functionality is the most important feature of Swelab Alfa Plus…
Dr. Irlanda Mohd Idzham
Klinik Idzham Sdn Bhd Kuala Lumpur Malaysia
I like the Swelab Alfa Plus because it is easy and simple to use. Using the barcode reader, we enter control values very quickly and we avoid the risks entering them manually. The system makes us feel very confident and we strongly recommend it!
Dulce Ivette Jimenez
Pharmacological chemist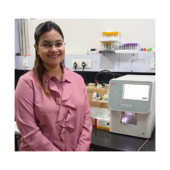 We have been using the Swelab Alfa Plus for seven years in our hospital, and we feel that the system is highly reliable for all parameters of hematology.
Dr Radhika Vashisth
MD Pathologist at FIMS Hospital
Basic
Standard
Cap
Sampler
Article no.
BD: automatic barcode reader
BD: Standard tubes, BD or equivalent
SA: Sarstedt tubes
Micro-pipette adapter inlet
Maintenance-free shear valve
Clinical performance of Swelab Alfa Plus 3-part hematology analyzer compared with a reference 5-part instrument
Comparison of capillary and venous blood samples on Swelab Alfa Plus hematology analyzer
Swelab Alfa Plus hematology analyzer helps ensure secure and efficient use of blood donations